A crochet pencil case can easily become a crochet hook case! So whether you are looking for a case for your pencils or for your hooks, i have you covered with this crochet cases collection.
If you are looking for a PDF pattern, or an Ad-Free Printable PDF Pattern, then you can get one and others for $1.50.
Cute Crochet Pencil Cases
If you are looking to make a hand made pencil case for someone, or just a new home for your crochet hooks, then keep reading. I love each and everyone of them. Some re simple and others more complex.
We share crochet pencil cases of all skill levels from beginner to advanced. Some come with zippers, others buttons. Choice is yours! I will do my best to only share the free crochet pencil case patterns, but when i come across a cute paid pencil case pattern, i will not be able to resist.
Crochet designers make their money through selling crochet patterns, and others from ads like you see on my site. And, in some cases, they may ask you to buy them a coffee! Every little contribution counts!
Can i crochet a pencil case as a beginner?
Why not?
Like i said, i will share patterns of all levels, from beginner to advanced. And, some of the patterns i am going to share come with a youtube tutoril. Like this zipper bag tutorial.
But as a beginner, there are a few things you should look out before you attempt to crochet any new pattern.
What to look out for in a pattern as a beginner
Stitches used
If the stitches used are mode advanced, then it is best to not attempt the crochet pattern. Sometimes the stitches used are a combination of the basic crochet stitches, to make it look more complex, but if the combination is confusing you, then it is best to stick to the simple beginner friend cochet stitches like the half double crochet stitch.
Follow gauge
Be sure to follow the pattern gauge to get the exact same finish like that in the photo. If you are unsure of what a gauge is or how to work one, then be sure to learn the beginners guide to gauge swatch.
Access to all materials
Be sure to use all the materials mentioned in the crochet pattern and use them the way they are described in the crochet pattern. If you feel like changing a few things, then let the yarn be it. If you change too much, then you might end up confusing yourself.
Yarn weight
Thicker yarn is easier to work with unlike finer yarn. So for a beginner, make sure you are focusing on crochet patterns that are working with yarns between DK weight to chunky yarn. Plus, many of the patterns use worsted weight and bulky yarn, so they'll work up relatively quickly.
Supplies for Crocheting Sandals
Here's what you'll need to crochet a pencil case.
Yarn
Your crochet pencil case pattern will give you instructions for the correct yarn weight, and often recommend a specific yarn. For your convenience, I am going to give you my personal yarn preferences.
You can substitute yarns, but make sure to choose one that is a similar weight and fiber content. This will help you achieve the correct gauge, and ensure that your pencil cases have a similar drape to the one in the pattern photos.
Remember, whether you use the recommended yarn or not, it's crucial to make a gauge swatch to make sure you're on the right track.
How much yarn will you need? Depending on the size of your cochet pencil case, you want to make, or how many pencil cases you are making, the size will vary.
For small- medium sized pencil case, one skeins of yarn will be more than enough. Don't worry; your pattern will let you know how much is necessary. Check out this Caron yarn or Lion brand yarn.
Hook(s)
You'll also need a crochet hook in the appropriate size. Again, your pattern will give you these details. Then, make a gauge swatch. After making your swatch, you'll know whether you need to size up or down.
And, if you're using a different yarn than the one specified in the pattern, you may need to adjust your hook size to meet the gauge.
Notions
In addition to yarn and a crochet hook, you'll need a few other supplies before you get started on your new crochet pencil case.
Tape measure. A tape measure or ruler will help you take your gauge, check your finished dimensions, and make sure that your case is the right size.
Stitch markers will come in handy for marking your place as you work, especially if you're working on a larger project.
Scissors to cut your yarn.
A tapestry needle is necessary to weave in ends and seam your finished pencil case together.
15 Crochet Pencil Case Patterns
1. Back To School crochet pencil case
Let us start off with this beautifully constructed crochet pencil case! This is not a beginner friendly pencil case due to its complicated construction. It looks easy, but you need to be comfortable with increases and decreases! If you are, then go ahead.
Pattern design by: Kuovarakia
Materials
Yarn: Cotton, DK yarn in two colors, A for the top and B for the bottom of the case.
Crochet Hook: 3.0 mm.
Other notions: Tapestry and sewing needle, zipper (27 cm), scissors.
Gauge
18.5 sts and 22 rows in single crochet = 10 cm.
Finished Measurements
Aprox. 19 * 9 * 8 cm.
Pin this for later
2. Crochet Whale Pencil Case
Here is anoter fun crochet pencil case for the kids, or for the hooks! Pattern design is by Amigurumilacion
3. Mister Snaps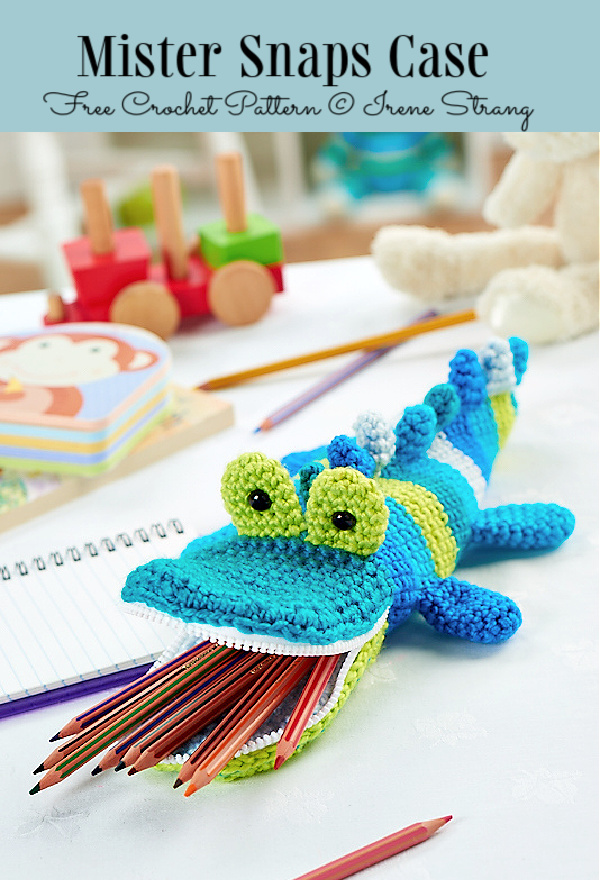 Here is another fun crochet pencil case in the design on a gator. Love it? Make it!
4. Shark Time Pouch Pattern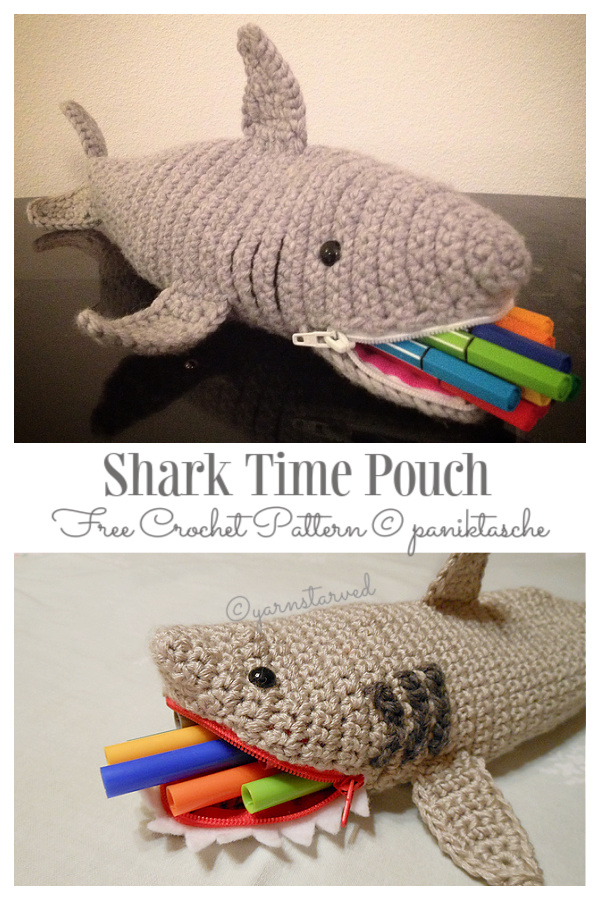 Click the link here for the FREE crochet pattern
5. Crochet Tapestry Pencil Case Pattern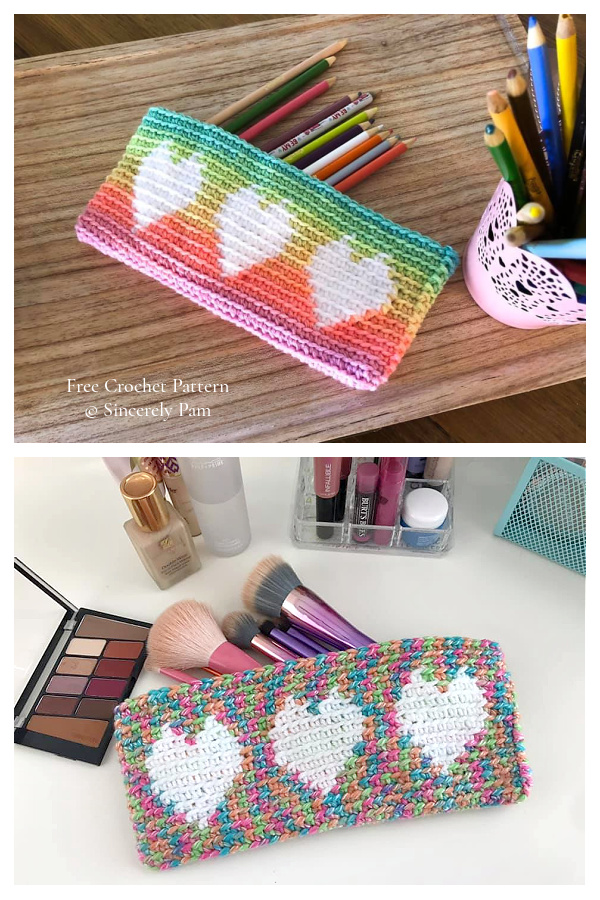 Click the link here for the FREE crochet pattern:
6. Pencil case cover pattern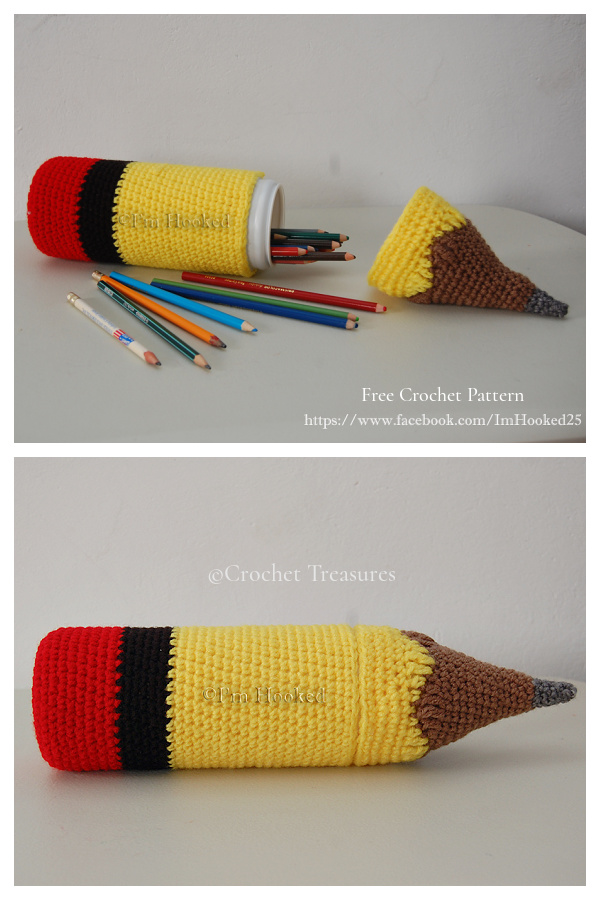 Click the link here for the FREE crochet pattern:
7. Alligator pencil case crochet pattern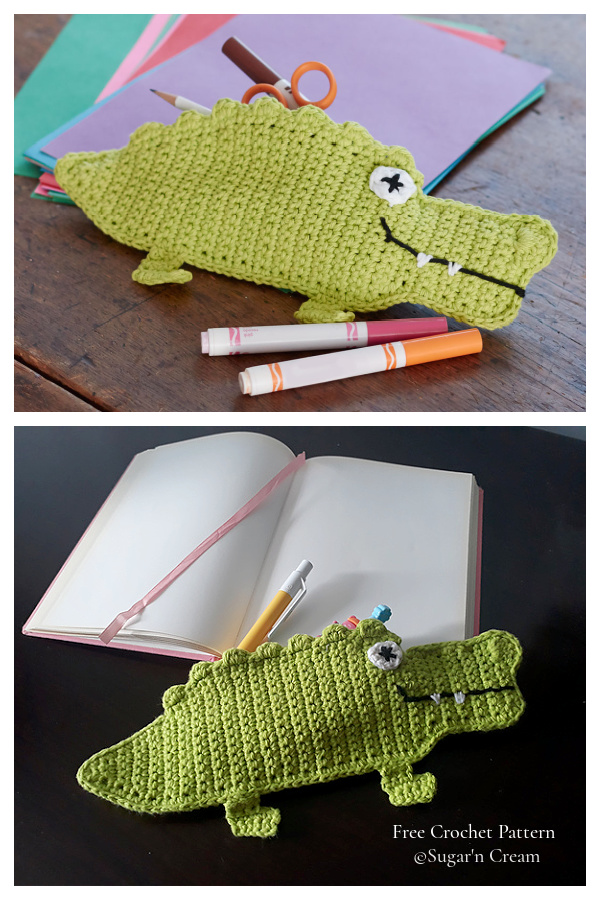 Click the link here for the FREE crochet pattern:
8. Rainbow Happy crochet pencil case pattern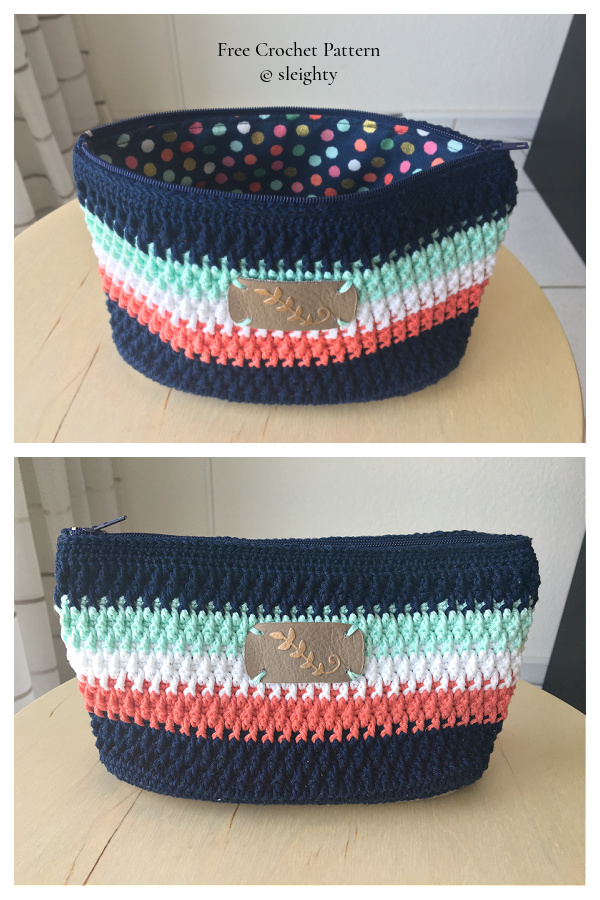 Click the link here for the FREE crochet pattern
9. Granny square crochet pencil case pattern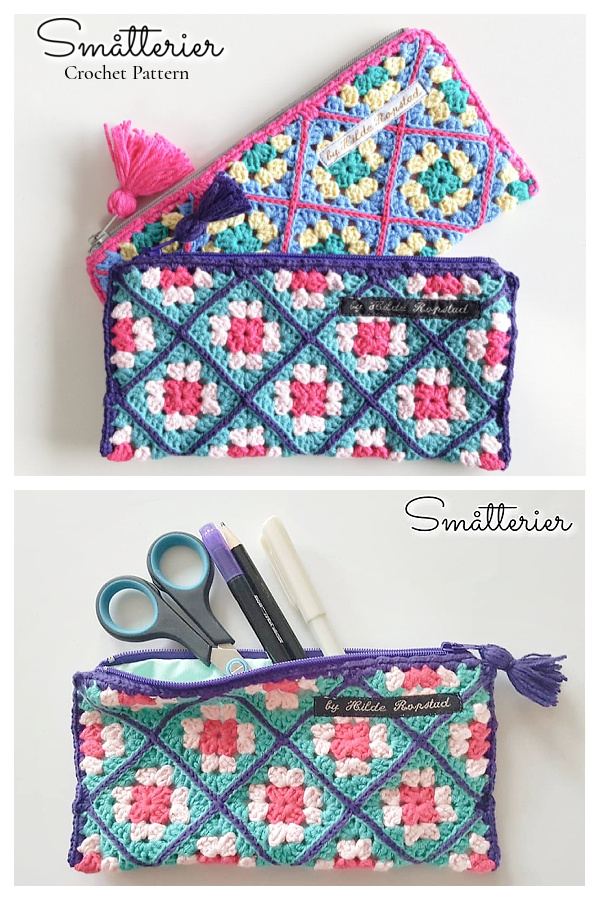 Click the link here for the PAID crochet pattern:
10. Granny Square Pouch Pattern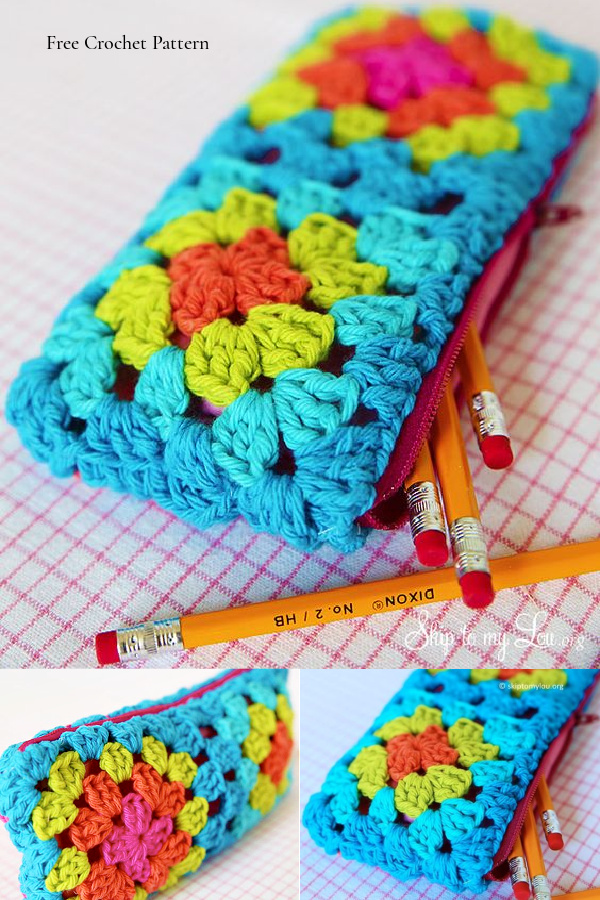 Click the link here for the FREE crochet pattern:
11. Mermaid Crochet Pencil case pattern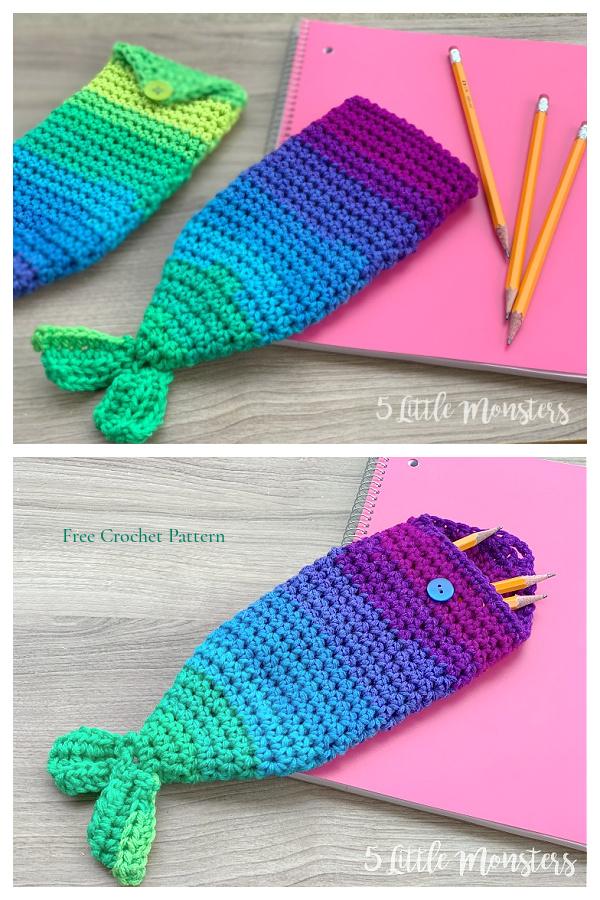 Click the link here for the FREE crochet pattern:
That is all i had for you today! I hope you today. I hope you found a pencil case you like!