If you are looking for a crochet wallet, then you are at the right place. In this blog post, we have collected 15 of the best free crochet wallet patterns for you to choose from.
If there's someone in your life that you think would benefit from learning to crochet, young or not so much, this is a really great starter project. Most of them are worked in one piece then folded and sewn closed. Easy!
These crochet wallet projects bring immediate results and satisfaction than some larger projects, so I think these kinds of things are a great, quick win to spark someone's creative talents.
One of the coolest parts of this "how to crochet a wallet" tutorial is the fact that you can literally use any scrap yarn you have. I know i did when i made the crochet button purse which did not take a lot of yards.
Free Crochet Wallet Patterns
If you're just starting out in crochet, the idea of crocheting a wallet should not be so scary. It is just you going back and fourth with the stitch. As long as you know how to crochet straight edges, you should be just fine!
If you're looking for a relatively simple design to try, these free patterns are perfect for you. They use basic stitches and construction techniques, so they're a great way to practice the basics while still making a beautiful and portable wallet.
Can i crochet a wallet as a beginner?
Many beginner can crochet a tote bag, what more a simple crochet wallet? A crochet scarf is more complex with its long chain that a crochet bag or crochet wallet/ purse is. So yes! As a beginner, you can crochet a wallet.
Plus, many of the patterns use worsted weight and bulky yarn, so they'll work up relatively quickly.
Types of crochet wallets suitable for beginners
There are a few things to look for when choosing a crochet wallet pattern as a beginner.
First, choose a pattern that uses basic crochet stitches like single crochet, half double crochet, and double crochet stitches.
Read through the pattern, and see if there is a recommended skill level listed near the top.
Get an idea of what stitches you will use, what type of seaming will be involved, and whether you need to know any special techniques.
Second, look for patterns made of basic rectangles or other simple shapes. You may want to avoid designs that utilise complex shaping techniques and fancy colorwork – at least for your first crochet wallet project.
Likewise, avoid patterns that call for very lightweight or otherwise difficult yarns. 
Additionally, look for a well-tested pattern with detailed instructions. Video tutorials can be especially helpful for beginners, too. Good thing is most of the patterns i am sharing come with a video tutorial.
Supplies for Crocheting Wallet
Here's what you'll need to crochet a wallet.
Yarn
Your wallet pattern will give you instructions for the correct yarn weight, and often recommend a specific yarn. For your convenience, I am going to give you my personal yarn preferences.
You can substitute yarns, but make sure to choose one that is a similar weight and fiber content. This will help you achieve the correct gauge, and ensure that your wallethas a similar drape to the one in the pattern photos.
Remember, whether you use the recommended yarn or not, it's crucial to make a gauge swatch to make sure you're on the right track.
How much yarn will you need? Depending on the size of your wallet you want to make, or how many wallets you are making, the size will vary.
For small- medium sized wallets, one skein of yarn will be more than enough. Don't worry; your pattern will let you know how much is necessary. Check out this Caron yarn or Lion brand yarn.
Hook(s)
You'll also need a crochet hook in the appropriate size. Again, your pattern will give you these details. Then, make a gauge swatch. After making your swatch, you'll know whether you need to size up or down.
And, if you're using a different yarn than the one specified in the pattern, you may need to adjust your hook size to meet the gauge.
Notions
In addition to yarn and a crochet hook, you'll need a few other supplies before you get started on your new wallet/purse.
Tape measure. A tape measure or ruler will help you take your gauge, check your finished dimensions, and make sure that your wallet is the right size.
Stitch markers will come in handy for marking your place as you work, especially if you're working on a larger project.
Scissors to cut your yarn.
A tapestry needle is necessary to weave in ends and seam your finished wallet together.
15 Crochet Wallets
When you find one that you love, please let us know in the comments section.
1. Crochet Wallet Tutorial
The pattern is pretty simple, it's comprised of just two long crocheted rectangles, folds, and slipped stitches.  This adorable little wallet is perfect for all of your on-the-go needs and features pockets for holding credit cards, a check-book, and cash.
Pattern design by: Just be crafty
2. Crochet card holder
This crochet card holder free pattern has a beginner friendly construction. It is made by folding a simple rectangle. Try using up your leftover cotton yarn to make this crochet card holder pattern. I am sure you will love it!
Pattern design by: Crochet Dreamz
Pin this for later
3. Moss Stitch Pouch
This one is a chunky textured pouch, that can be used to transport your crochet hooks and small projects, or maybe your phone, keys or make-up! Made with a soft cotton rope, it works up in no time at all.  Great for a beginner; written in US terms.
Pattern design by: Emma Wilkinsons Designs
Pin this for later
4. Crochet Star Stitch Wallet
This is a free star stitch crochet wallet pattern with step by step video tutorial. Star stitch itself is one of the most beautiful and eye-catching crochet stitches and I'm sure most of you have already mastered this technique.
There are very few crochet stitch patterns that would make and be perfectly matched with many different kinds of projects. The star stitch is among them without any doubts.
Pattern design by: Yarn & Hooks
Pin me for later
5. Crochet key chain wrist-let
To crochet this wallet:
You will need to know how to:
Chain (ch) – insert hook, yarn over (yo), pull through.
Half double crochet (hdc) – yo, insert hook, yo, pull through stitch, yo, pull through all three loops on hook.
Slip stitch (sl st) – insert hook, yarn over (yo), pull through stitch, pull through the loop on hook.
Pattern design by: Made simply by Stacey
6. Crochet Wallet Tutorial
Calling all my visual learner friends, here is a crochet wallet pattern for you. You can catch the crochet tutorial on YouTube by Fazcrochet.
7. Crochet Mini Money Wallet
This is an easy crochet unisex wallet. Just add blue to the boarder instead of the pink and it is a mans wallet. Or, you can maintain the grey, and all is well.
Pattern design is on Etsy, so this i not a free crochet wallet pattern, but you can support crochet pattern designers by purchasing a few of their crochet patterns. Get the pattern
8. Mini clutch purse
Here is another crochet wallet tutorial for your perusal. See how you like it and see if you can attempt to make one.
9. Crochet Chevron Hearts Wallet
This beautiful Chevron Hearts Wallet is perfect for keeping coins or cards safe and secure.
This delicate design is full of love with a plethora of little hearts. It may look intricate but is actually a simple yet addictive pattern that you will want to make over and over. Add a lining and zipper to finish off your project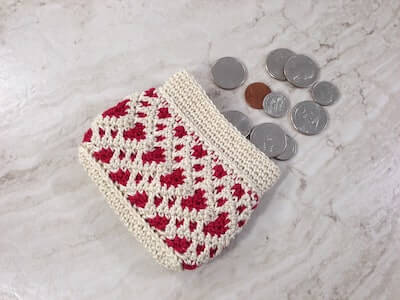 Get the Pattern by Krazy Kabbage here
10. Easy Crochet Wallet Pattern
Create this cute easy crochet wallet with this easy to follow pattern! Fun to make a in a variety of colors and easy to create with a zipper enclosure.
Get the Pattern here
11. Embossed Heart Wallet Crochet Pattern
This Embossed Heart Crochet Wallet is the perfect little project to dip your toes into embossed crochet, and it's a stash buster! Work it all in one color to emphasize the relief image, or make it pop with a contrasting color.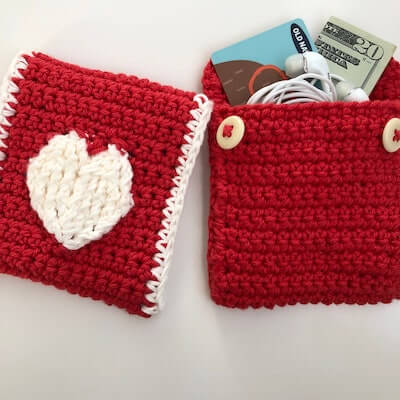 Get the Pattern by Clair De Luna Fiber Art here
12. Beaded Free Crochet Wallet Pattern
If you're just starting out with crochet and only know how to double crochet and single crochet, but want to make something a little more than just scarves and washcloths, this beaded wallet is a good beginner project.

Before you start crocheting this wallet, you string beads on the yarn. And as you crochet, you slowly incorporate the beads in a certain pattern.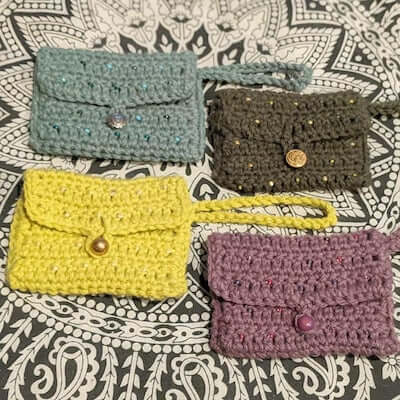 Get the Pattern here
13. Crochet Granny Square Wallet Pattern
Turn a classic crochet granny square into your own clutch wallet! This pattern provides full instructions for creating your personal wristlet style clutch including how to add a fabric lining. Take a fun retro granny square and make it modern.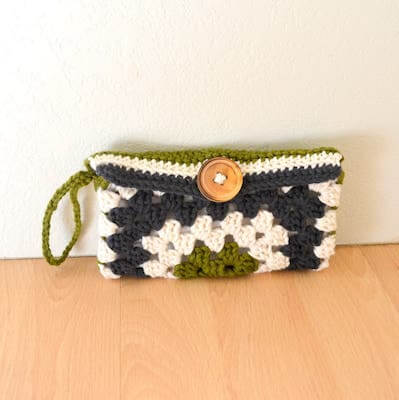 Get the Pattern by The Good Shnit here
14. Crochet Mini Wallet Pattern
These mini wallets are great for party favors. Crochet up a bunch and add a small thank you note with a bit of candy. Make them in all pink or all blue and you have a wonderful baby shower favor. Your guest will be sure to remember your lovely gathering!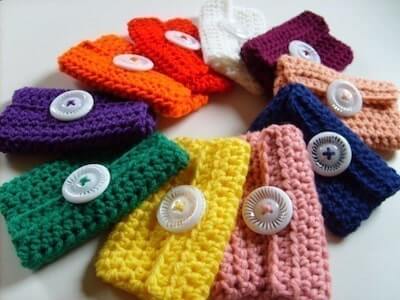 Get the Pattern by Wee Bee Uniques By Julie here
15. Crochet Wool Striped Wallet Pattern
This Crochet Wool Striped Wallet is great for anyone who loves a little custom organization. The crochet stitches are simple but the result is eye-catching and you can add as many pockets as you like to make it suit your own needs.
Get the Pattern here
So…What now?
Pin this post: Save this tutorial to your Pinterest boards so that you can come back to it later.
Leave a comment: We love to hear your feedback. Tell me in the comments below!
Share on Instagram or Facebook: When you make this project, share it on social media and tag me,We love to see what you make!