Crochet vests are a great way to add a touch of style and warmth to your wardrobe. They're versatile and can be dressed up or down, making them a perfect choice for any occasion.
In this article, we'll guide you through the process of crocheting a basic vest and give you a few crochet vest patterns that should have you well on your way to adding a new touch to your wardrobe.
How to crochet a vest
Following these simple steps, you should have yourself a beautiful crochet vest!
Step 1: Measure your chest
Before you start, take a measurement of your chest to determine how much yarn you'll need and what size hook to use.
Step 2: Choose your yarn
Select a medium weight yarn that will drape nicely and is comfortable to wear.
Step 3: Determine the pattern
There are many different crochet vest patterns to choose from. Pick one that you like and that will suit your skill level.
Step 4 :Make a gauge swatch
Before you start, make a gauge swatch to ensure that your finished vest will be the correct size.
Step 5: Start the back panel
Begin by chaining the number of stitches required for the width of your vest. Then, work your rows back and forth until the back panel is the desired length.
Step 6: Make the front panels
Repeat the process for the front panels, working each panel separately until they are the same length as the back panel.
Step 7: Join the panels
Once the front and back panels are complete, join them at the shoulders by working single crochet stitches across the top of each panel.
Step 8: Add the armholes
Next, you'll need to add the armholes by working single crochet stitches along the sides of the vest.
Step 9: Finish the vest
Once the armholes are complete, work a border around the neckline, armholes, and bottom edge of the vest.
Step 10: Weave in the ends
Finally, weave in any remaining yarn ends with a tapestry needle to secure them. And you are done!
With these simple steps, you'll have a cozy and stylish crochet vest in no time. Get creative and experiment with different colors, patterns, and embellishments to make your vest unique and personal.
How to style a crochet vest
Crochet vests are a versatile and stylish piece that can be dressed up or down. Here are some tips for styling a crochet vest:
Pair with jeans and a t-shirt: A crochet vest is a great way to add texture and interest to a casual look. Wear it with a simple t-shirt and jeans for a relaxed, bohemian vibe.
Layer over a long-sleeved shirt: If you're looking for extra warmth, layer your crochet vest over a long-sleeved shirt. This look works especially well with a chunky vest and a form-fitting shirt.
Dress it up with a skirt: For a more dressed-up look, pair your crochet vest with a skirt. This can be a flowy, bohemian skirt or a more structured, midi-length skirt.
Wear with leggings: For a comfortable and cozy look, pair your crochet vest with leggings. This is perfect for a casual day at home or running errands.
Layer under a jacket: If it's chilly outside, layer your crochet vest under a jacket for added warmth. A denim or leather jacket works well with this look.
Accessorize with jewelry: To add extra interest to your look, accessorize your crochet vest with jewelry. Try a long necklace, chandelier earrings, or a statement bracelet to add a pop of color and texture.
Best Yarn for Vest Crochet
If you are looking for an easy quick make, then medium weight yarn or category 4 weight yarn is the place to go, you could never go wring with a  worsted weight yarn.
When shopping for yarn, I like to look for soft acrylic yarn or washable wool-blend yarn. Some of my favorite acrylic yarns are Caron simply soft yarn  and Pound of love yarn.
My Favorite Crochet Hooks
And, of course, you'll need a crochet hook. My favorite crochet hooks are ergonomic crochet hooks from Furls. They are suitable for beginners, and are very easy to use.
We also love these beautiful wooden crochet hooks from Furls. We find them very comfortable and easy to work with!
Other notions
Other crochet patterns you might like
If you are a lover of crochet clothes, then you will love these crochet patterns:
7 Crochet Vest Patterns
1. Crochet sweater vest tutorial
If you are a lover of crochet sweaters and vests, then you must know TCDDIY of YouTube. She has over 200 crochet sweater patterns. She designed this crochet vest tutorial and patterns, but since we are trying to keep this list full of free patterns, i will give you a link to the tutorial.
2. Crochet diamond vest
Another lovely crochet vest tutorial that you will enjoy to make, If you are into this kind of style, then this easy vest crochet tutorial will be your new favourite pattern.
3. Granny square crochet vest
If you are a lover of crochet granny square patterns, then this crochet vest made from this simple granny square stitch will be your new favourite. Read more
4. Houndstooth crochet vest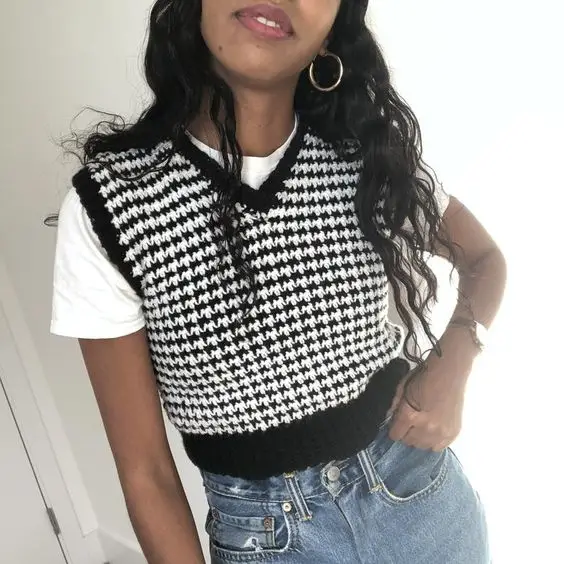 I came across this crochet vest pattern during my first crochet days. And i could not wait to learn how to crochet to make it! Get the paid pattern HERE
5. Crochet vest for ladies
Another crochet vest tutorial for the visual learners. Watch the tutorial HERE
6. Crochet collared vest
If you are a lover of bright colours, then this vest will be the one for you. Read more
7. Classy handmade crochet vest
Another crochet vest tutorial. Unfortunately, the last on the list. Get the tutorial HERE.
I hope you found a pattern you like! If not, next time should do it. For now,
happy crafting!!!