Looking for a new crochet cat sweater or cardigan pattern to try? Look no further! In this blog post, we have collected 15 of the best free crochet cat sweater patterns for you to choose from.
These patterns are suitable for beginner and intermediate crocheters, and include turtleneck cat sweaters and more. So whether you're looking for a new winter project or something cozy to keep your cat warm in the spring and fall, we've got you covered!
Free Crochet Sweater Patterns
If you're just starting out in crochet, the idea of crocheting a whole sweater can seem intimidating. But don't worry! The crochet cat sweater is very small fast and simple. There is no need no need to crochet arms, just the little cat feet holes, just like the crochet dog sweaters.
You can own me for $1.9
If you're looking for a relatively simple design to try, these free patterns are perfect for you. They use basic stitches and construction techniques, so they're a great way to practice the basics while still making a beautiful and wearable cat sweater.
Can I crochet a cat sweater as a beginner?
Even beginners can make crocheted sweaters. Many crochet sweaters are not much more complex than a scarf or a dishcloth – they are just a lot larger. So this crochet cat sweater should not be as hard to do.
In fact, many of the Cat sweater designs included below are made of simple rectangles and oval shapes pieced together. Still, others are crocheted seamlessly in one piece, and require minimal or no piecing at all.
Plus, many of the patterns use worsted weight and bulky yarn, so they'll work up relatively quickly.
$2.99 a ball!
What types of crochet cat sweater patterns are suitable for beginners?
There are a few things to look for when choosing a crochet sweater pattern as a beginner.
First, choose a pattern that uses basic crochet stitches like single crochet, half double crochet, and double crochet stitches.
Read through the pattern, and see if there is a recommended skill level listed near the top.
Get an idea of what stitches you will use, what type of seaming will be involved, and whether you need to know any special techniques.
Handmade Teak Wood Yarn Bowls
Second, look for patterns made of basic rectangles or other large simple shapes. You may want to avoid designs that utilise complex shaping techniques and fancy colorwork – at least for your first crochet sweater project.
Likewise, avoid patterns that call for very lightweight or otherwise difficult yarns. 
Additionally, look for a well-tested pattern with detailed instructions. Video tutorials can be especially helpful for beginners, too.
Supplies for Crocheting Cat Sweaters
Here's what you'll need to crochet a cat sweater.
Yarn
Your cat sweater pattern will give you instructions for the correct yarn weight, and often recommend a specific yarn. For your convenience, I am going to give you my personal yarn preferences.
For $3.99 you can have your cat sweater done!
Save some coins while maintaining quality
You can substitute yarns, but make sure to choose one that is a similar weight and fiber content. This will help you achieve the correct gauge, and ensure that your sweater has a similar drape to the one in the pattern photos.
Remember, whether you use the recommended yarn or not, it's crucial to make a gauge swatch to make sure you're on the right track.
How much yarn will you need? Depending on the size of your cat, or how many cat sweaters you are making, the size will vary. For small- medium sized cats, one skein of yarn will be more than enough. Don't worry; your pattern will let you know how much is necessary. Check out this Caron yarn or Lion brand yarn.
Carron Yarn
Hook(s)
You'll also need a crochet hook in the appropriate size. Again, your pattern will give you these details. Then, make a gauge swatch. After making your swatch, you'll know whether you need to size up or down.
And, if you're using a different yarn than the one specified in the pattern, you may need to adjust your hook size to meet the gauge.
You could never have enough hooks!
Notions
In addition to yarn and a crochet hook, you'll need a few other supplies before you get started on your new cat sweater.
Tape measure. A tape measure or ruler will help you take your gauge, check your finished dimensions, and make sure that your cat's sweater is the right size.
Stitch markers will come in handy for marking your place as you work, especially if you're working on a larger project.
Scissors to cut your yarn.
A tapestry needle is necessary to weave in ends and seam your finished sweater together.
15 Crochet Cat Sweaters
When you find one that you love, please let us know in the comments section. When i get myself a cat, i will be sure to make a crochet cat sweater too.
1. Small Pet Stripy Sweater Crochet Pattern
This cat coat pattern is so cute and has two little holes for a cat's front two legs. There's ribbed banding around the neckline too so it's extra comfy for the little fella.
Crochet cat sweater patterns don't have to be intimidating. This little sweater is so easy to make and your cat will appreciate it so much during the colder months. You could even make it a little crochet cat hat to match. Read more…
2. Josephine Kitty Sweater
If you love colours in your crochet projects or you have a lot of scrap yarn laying around then this crochet cat sweater might be the perfect scrap yarn project for you to try. Read more…
3. Crochet Cat Sweater
Ok, let's be real. If your cat is like most cats, she probably isn't too keen about your sweater ideas. But if you have a hairless cat breed, like this sweet Sphynx cat, then staying warm is essential. Read more…
4. Button Up Crochet Cat Sweater
Another beautiful crochet sweater for cats. This one uses a beautiful colourful chunky yarn. Looks very cozy and warm for the coldest winter days. Read more…
5. Stevens Stripped Cat Sweater
Another beautiful cat sweater. Fast and warm, you will be done before you know it. If you have a few friends with cats, then this can be a fast crochet cats sweater gift. Read more…
6. Crochet Alpine Cat Sweater
Another great must make crochet sweater for the cat. Read more…
7. Cool Cat Sweater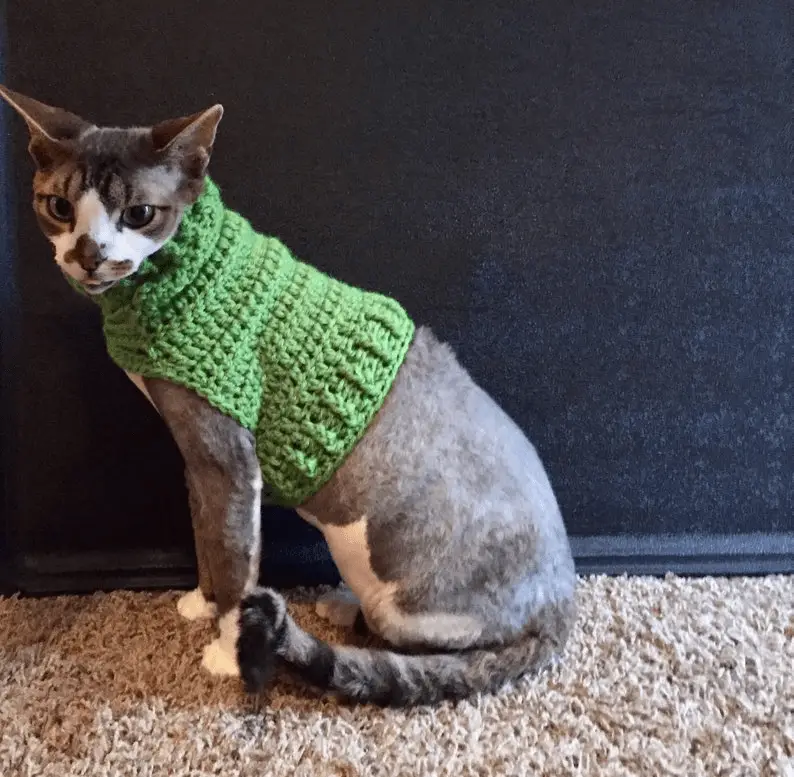 You will have a lot of fun working this cat sweater. For the pattern, CLICK HERE
8. Cat Sweater Crochet Pattern
Cat sweater crochet pattern, to keep your cat warm. Along the neck, and the bottom have a ribbed edging, to give it a bit of style. This cat sweater easily slips on over your cat's head, so no struggling with buttons.
It comes in two sizes:
Large is sized to fit about a 14 pound cat. The neck measures about 14 inches, with the stomach measuring about 17 inches. It measures about 13 inches long in length.
Small is sized to fit about a 10 pound cat. The neck measures about 12 inches, with the stomach measuring about 15 inches. It measures about 11 inches long in length.
This pattern is for a medium skill, as you will need to know how to do double crochet increase and decrease, front post double crochet, and back post double crochet. Get the pattern HERE
So…What now?
Pin this post: Save this tutorial to your Pinterest boards so that you can come back to it later.
Leave a comment: We love to hear your feedback. Tell me in the comments below!
Share on Instagram or Facebook: When you make this project, share it on social media and tag me,We love to see what you make!